Meet Steven Eisenberg, MD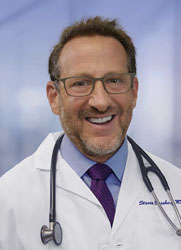 Dr. Eisenberg was born in Brooklyn, NY. After graduating from The George Washington University, he attended The Mount Sinai School of Medicine where he earned his MD degree in 1989. His training in Internal Medicine continued at New York's Mount Sinai Hospital. He moved to Atlanta in 1992 where he completed his Cardiology fellowship at Emory University Hospital. In 1996, Dr. Eisenberg completed his fellowship and joined Cardiovascular Specialists, where he continued to practice cardiology for eighteen years.
Dr. Eisenberg has a clinical interest in preventive cardiology, lipid disorders and cardiac imaging. He is known for the diagnosis of both common and rare, complex cardiac disorders. Dr. Eisenberg has been a principal investigator in numerous clinical trials and was the founder and director of The Atlanta Heart and Vascular Research Group. He has served as Chief of Cardiology at Saint Joseph's Hospital since 2001 and serves on the Heart and Vascular Institute Board of Trustees. In addition, he is a fellow of the American College of Cardiology.
After eighteen years of service and with the recent changes in healthcare, Dr. Eisenberg has decided to leave Cardiovascular Specialists to start Complete Cardiology. His goal is to maintain the old-fashioned physician/patient relationship while applying the most advanced technology to the diagnosis and treatment of cardiac disorders.
Steve is married and has two children. He enjoys spending time with his family, spending time at the fitness center, and he remains a dedicated fan of the New York Yankees.
Accreditations
Dr. Eisenberg was named a "Top Doctor" three years in a row (2016, 2017, & 2018) by Atlanta Magazine.
Dr. Eisenberg is also a proud participant of The Million Hearts Model.